Flying High: A Look at India's Biggest Upcoming Jewar Airport
Flying High: A Look at India's Biggest Upcoming Jewar Airport
It's no secret India is improving its infrastructure and economy with each passing day by constructing various mega-structures to help boost economic growth and give locals access to a better quality of life.
The Jewar International Airport is another mega-structure initiated by the Indian government to build the biggest airport in Asia that will cater to the needs of 70 million passengers after its launch by the end of 2024.
For those who don't know, India's largest airport is being built in Jewar in the Gautam Buddha Nagar district in Uttar Pradesh by the Yamuna International Airport Private Limited, a subsidiary of Zurich Airport International. 
What's interesting to note about the new under-construction international airport in Jewar is its exceedingly strategic location, making it highly accessible for people from different cities and surrounding areas.
Also Read: 6 Mega Infrastructure Projects In 2023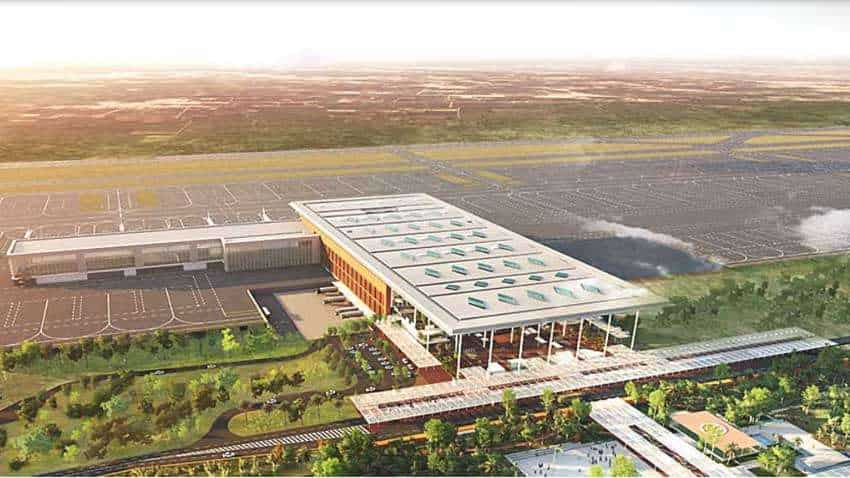 Connectivity of Jewar Airport
The location for India's most significant airport has been carefully sourced by the officials to allow great accessibility. The airport will be connected to the Yamuna Expressway, allowing people from some of India's prominent cities like Greater Noida, Mathura, Agra, and Jewar to get access to it conveniently.
Moreover, the Jewar Airport will also be connected to the new Delhi-Mumbai Expressway through a 31 km-long link road at the main alignment of the expressway in Ballabgarh. This will ultimately make the airport accessible for people belonging to Faridabad, Delhi, and Gurgaon. The airport is only 75 km away from Delhi.
Did You Know?
For starters, the airport will be constructed in four separate phases. The first phase includes the development of commercial spaces, a terminal building, and 2 runways. The total amount of land that will be covered in the initial phase is 1300 hectares.
Interestingly, the airport will cover a total area of up to 5000 hectares with Approx 6 to 8 runways upon its completion. Currently, over 2600 workers are engaged in its construction to complete phase 1 so that it's ready for trial and testing by mid-2024, i.e., 4 to 6 months before its inauguration. 
The workforce is expected to be increased to 6,000 workers as construction moves forward.
Furthermore, the airport will serve over 12 million local and international passengers when the first phase is finished. Plus, it is expected to handle 200,000 tonnes of cargo. 
According to the minister of civil aviation, the Jewar International Airport will be much bigger than the Indira Gandhi International Airport in Delhi, which currently facilitates 69 million passengers. 
There are also plans to increase the capacity of the Jewar airport from 12 million to 70 million passengers per year. The runway will be 4,000 metres long and 45 metres wide, with a 40-metre-high ATC to give the full view of the airport to air traffic controllers.
The construction of the Jewar Airport is undoubtedly a leap for India toward an eco-friendly airport that operates efficiently and provides a fully modern environment to local and international travellers.
Don't forget that the Jewar Airport will be turned into a transit hub, ultimately bringing in more people to the city and surrounding areas. Needless to say, this will contribute to massive boosts in business activities and India's economy.
As an Indian citizen, you may consider investing in commercial or residential property in Greater Noida or any other connecting cities and districts. This is because the real estate market will undoubtedly rise higher after the completion of the airport, allowing investors to reap the benefits of long-term investments.
Residential projects in Greater Noida, such as ACE Divino, developed by ACE Group could be your dream project to invest in. 
To know more about our projects that have great connectivity to the Jewar Airport, contact ACE Group today. 
---
ACE Divino: RERA REG NO. UPRERAPRJ6734 | Website of RERA: www.up-rera.in